Illustrated Glossary: Digital Print Supports
A wide variety of substrates are used in digital printing. Some are very simple such as plain office paper, while others have very complex layer structures such as dye sublimation paper. Below are cross-section micrographs illustrating the substrate layer structures for the most basic print types. The printed colorant can be seen on top of the substrate.
Plain Papers
Plain paper is primarily used for printing documents. It is used for both electrophotographic and inkjet printing. It is also referred to as office paper or copier paper.
| | |
| --- | --- |
| | |
| Dry-toner electrophotography on plain paper | Inkjet on plain paper |

Coated Papers
Coated papers are typically used in dry and liquid electrophotographic digital presses, inkjet digital presses, as well as offset lithography. They have a thin coating on each side of the sheet to improve surface gloss and page opacity.
| | |
| --- | --- |
| | |
| Dry-toner electrophotography on glossy coated paper | Liquid-toner electrophotography on glossy coated paper |
| | |
| --- | --- |
| | |
| Inkjet digital press on glossy coated paper | Offset lithography on glossy coated paper |

Resin-Coated Papers
Resin-coated (RC) papers have sheets of polyethylene laminated on each side of the paper support. The layer on the back is clear to allow the manufacture's logo to show through. The layer on top is pigmented white to give the printed image bright whites. It is on top of this that the image receiver layer is applied, whether it is gelatin for a chromogenic print, polyester for a dye sublimation print, polyvinyl alcohol for a polymer inkjet print, or silica for a porous inkjet print.
| | |
| --- | --- |
| | |
| Chromogenic on RC paper | Dye Sublimation on RC paper |
| | |
| --- | --- |
| | |
| Inkjet on polymer-coated RC paper | Inkjet on porous-coated RC paper |

Porous-Coated Baryta Photo Paper
Baryta paper is used primarily for professional and fine art inkjet photography. It is intended to replicate traditional black-and-white fiber-based photographic papers. Importantly, it is only intended to replicate the appearance and not the actual materials of the older photographic papers. While some of these inkjet papers do have a true barium-sulfate-in-gelatin layer, many others do not and use other approaches such as alternate polymers and whiteners or no special baryta-like layer at all.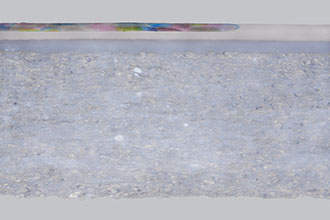 Inkjet on porous-coated baryta paper

Uncoated Finer Art Paper
Uncoated fine art papers were the first papers used to print inkjet photographs and fine art. They are available in a large variety of thicknesses, tints, and textures.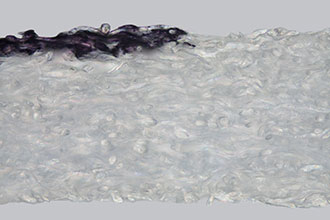 Inkjet on uncoated fine art paper

Porous-coated Fine Art Paper
Porous-coated fine art papers were an early innovation to improve image quality over the uncoated fine art papers, which tended to over-absorb the ink resulting in muted colors and degraded detail. The porous coatings keep the ink close to the surface resulting in brighter colors and sharper lines.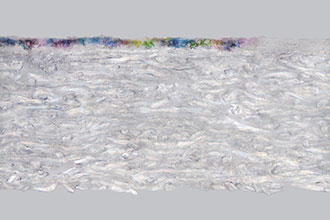 Inkjet on porous-coated fine art paper

Canvas
Canvas is used to impart a painting-like quality to inkjet prints. It is more often used with consumer prints, decorative arts, and art reproduction as opposed to fine art. A porous inkjet coating is applied to the canvas to receive and hold the ink.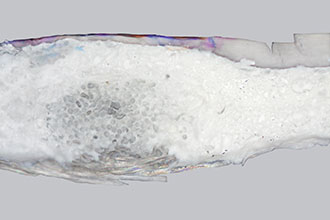 Inkjet on porous-coated canvas